The PhotoPrintMe Wall
The complete unattended photographic service shop
An instant photo printing system solution, with a complete, pleasing appearance in your shop.
For those who wish to offer the wider range of photographic products in your current shops, your photo shop business or any other type of shop.
With an optional validation display solution for self-service use, and a display area with shelves for photo gift products and sample prints; it is a very flexible, easy-to-install idea and also flexible to grow, thanks to the design of the wall modules from the PhotoPrintMe Wall.
You can also complete the self-service solution by adding the PhotoPrintMe Plus licence, which allows you to pay online and have home delivery, for a perfect and complete unattended solution that you can configure at your convenience.
Components
A printer
With our dye-sublimation instant photo printing system, you can offer the full service that PhotoPrintMe allows. With a reduced design, easy maintenance and access, it is the printing centre within your PhotoPrintMe Wall. You can install up to two units (*) depending on what your business needs, being able to offer a wide variety of formats at the same time without having to change different types of consumables. (*) - Depending on the Cabinet model for 1 or 2 printers
Modular and varied
PhotoPrintMe Wall includes:
• PhotoPrintMe logo.
• 400 X 265 mm shelf (1 unit)
• 770 X 265 mm shelf (2 units).
• Printer Cabinet for 1 or 2 printers
• Language Kit for PhotoPrintMe Wall
• Edemokit PPM.
• 40 cm hook bar (2 units).
• Hooks (3 units).
• Shelves
Optional validator
With a 15-inch touch screen display along with a stand for easy mounting, turn your PhotoPrintMe Wall into an unattended solution, thanks to this self-service order validation kit from your customers
Advertising Material
A pack of photo product samples- material, which includes an easy to mount magnetic kit for products in your language (*) a wooden logo, and a panel with your shop's QR code (scan panel), to leave your PhotoPrintMe Wall as a perfect display of PhotoPrintMe's product and services (*)- Check with your Distributor for all available languages
PhotoPrintMe Plus one year subscription (optional)
Available as an option for your PhotoPrintMe Wall: the same features as the PhotoPrintMe Basic Licence, with the addition of the Online and HomeDelivery payment features
Features
Multiple printing options for your customers
Collage, Greeting Cards, Calendars, Bookmarks, Photo Strips, Albums, Mini Pictures...a wide range to create your own product range in the PhotoPrintMe online catalogue.
Online Catalogue can be integrated into your website
With news and seasonal campaigns
24h service
PPM allows you to offer a photo printing service that is open 24 hours a day, with your own exclusive online shop, so your customers can send orders at any time and from anywhere.
Make your customers' visits (even more) profitable
Your current customers will be attracted by the possibility of printing their photos using this new service
Cross-selling or up-selling
Generate cross-selling or up-selling. Customers who come to your shop to print photos with PhotoPrintMe are likely to be tempted to make other types of purchases they would not have made if the new service did not exist.
Accessories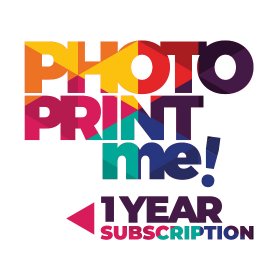 PhotoPrintMe Annual Subscription