CP31W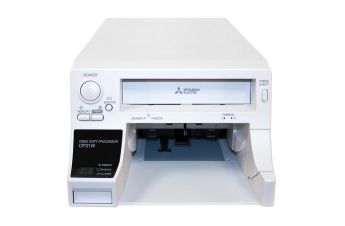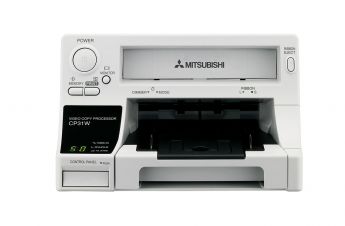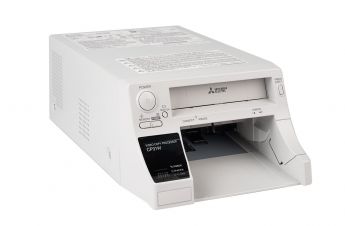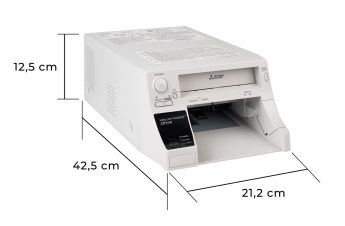 This scientific color video printer features a high-performance DSP engine, dye sublimation thermal transfer technology and a 423 dpi thermal head delivers premium print quality images with vivid, smear-free gradation at fast print speeds of 16 seconds for S size and 25 seconds for L size output. The CP-31W includes a selection of gamma curves which simplifies gamma curve fine-tuning and color adjustment. Designed for use with ultrasound systems, endoscopes and other sophisticated scientific instruments, the CP-31W produces 2 or 4 frames multi-prints and includes convenience features including an all-front access design with automatic loading for ribbon cartridge replacement, an internal wide-mouth paper catcher, and a built-in monitor to track print status.
Features
Very high resolution
423 dpi high resolution printing, thanks to a new adaptive thermal head management control engine delivers vivid, smear-free gradation
Easy loading media
CP31W includes an automatic loading system for Trouble-Free Ribbon Cartridge Replacement, which means a single-action operation. The Paper Cassette Engineered for Easy Mounting provides a Fast and easy media replacement together with a Wide-Mouth Paper Catcher Extra roomy – print retrieval is easier than ever
Comfortable operation and easy to use
A very comfortable operational use: automatic loading for trouble-free ribbon cartridge replacement, a very easy to use front loading design with a wide-mouth paper catcher, and an easy mounting paper cassette.
Low Maintenance and High Reliability
The advanced design features include an effective heat and dust case design that means a long lasting quality and reliability
Quick and Small
Ultra-fast print speeds and small size printer device which brings a space saving unit storage
Operating in dark environment
In case of a poorly illuminated room, the built-in lighting helps to track print status
Specifications
Printing method
Dye sublimation
Resolution
Thermal head 423 dpi (16.7 dots/mm) max. resolution: 1600x2100 dots
Color depth
24 bit, 256 color gradations for yellow, magenta, cyan 16.7 milion colors
Print Speed / Picture
S-format: approx. 16 sec (standard mode); approx. 19 sec. (power save mode)
L-format: approx. 25 sec (standard mode); approx. 30 sec. (power save mode)
Print size (cm)
S-format: 100 x 94 mm
L-format: 148 x 100 mm
Print Area
S-format: 96 x 72, 1600 x 1200 dots
L-format: 126 x 96, 2100 x 1601 dots
Paper capacity
S-format 80 Sheets
L-format 50 Sheets
Printer memory
8 frames (32 MB)
Interface
Y/C (S-Video) - 1 mini-DIN 4-pin for in- and output
FBAS (composite video) - 1 x BNC forn in-and output
RS-232C 25-pint D-sub for control signal
REMOTE 2 mini-DIN 8-pin for remote control
REMOTE 1 stereo jack 3.6mm for remote control
Power supply
AC 120V, 50/60 Hz
AC 220-240V, 50/60Hz
Power consumption max.
at AC 120V: approx. 1.7A while printing, approx. 0.3A stand-by
at AC 220-240V: approx. 1.0A while printing, approx. 0.3A stand-by
Dimensions W/D/H
approx. 212 x 125 x 425 mm
Approvals
TÜV-GS, TÜV-GM, CE (LVD, EMC, MDD), UL, CSA. EN60950-1, EN60601-1, TUV-GS, TUV-GM, UL60950-1, UL6060-1, CSA C22.2 No. 60950-1, No. 60601.1
Media references
Ref.
Print size (cm)
Prints per roll
Rolls per box
Compatible Photo Printers
CK30L
Print size (cm):
100 x 94 mm / 148 x 100 mm
Prints per roll:
100 x 148 mm
Compatible Photo Printers:
CP30DW
CP30W
CP31W
CK30S
Print size (cm):
100 x 94 mm / 148 x 100 mm
Prints per roll:
100 x 94 mm
Compatible Photo Printers:
CP30DW
CP30W
CP31W