CLICK is a professional photography system and partner that helps to increase the business. With CLICK, it is possible to manage multiple printing equipment at the same time, making multi-format adaptions, ordering double-sided prints, receiving orders online from any mobile device and many more features.

The powerful all-in-one solution with fast workflow, which is useful for photo retailers, professional studios, social/event photography and more places, comes with a variety of different features and a wide product range which is selectable on a big 19.5" touchscreen.
It is easy to connect to it via different sources like smartphone, Bluetooth, USB, Social networks and more. It provides an editing tool, PhotoPrintMe (online catalogue with a variety of products and formats), Hotfolder (shared folder which makes selecting and printing easy) as well as many services with added value.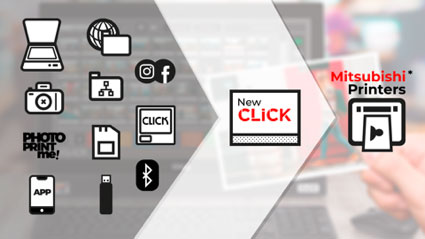 The new CLICK is the perfect option to get the maximum out of the photo business and create long-term customer satisfaction.
Detailed information about the product and it´s features is available on our webpage.